Currenty there are following 3D-printers available to use:
Lecktor / Prusa i3 MK3S+
Voron V2 (NB! Only PLA)
Join the #3dprinting channel on Slack and ask before doing any experiments!
Nozzle: 0.4mm
Material: PLA / PETG / ???
Requires full-size SD-card for printing.
Set up PrusaSlicer (make sure to configure as Prusa i3 MK3S+ physical printer profile)
Load up 3D model (STL, 3MF, etc..)
Slice the model, note how much material is used (see "Paying for print" below) and save resulting file on full-size SD-card.
Put the SD-card into printer and print.
Voron V2.4 Stealthburner(?)
Bed 300x300mm
Nozzle size: 0.4mm
Material: PLA
Get Prusa slicer apt install prusa-slicer or https://help.prusa3d.com/downloads (alternative is SuperSlicer)
Select Voron V2 Afterburner with 0.4mm nozzle (Configuration wizard -- under Other vendor)

Set the Filament type to PLA

get STL file, open with PursaSlicer
Select correct printer, layer height and Filament
Slice and send to printer
Remarks:
Layer height: 0.2 should be fine for most applications.
215 may not be enough for first layer. If the print starts with dry chunks, 220-225 'fixes' the issue. You can change the temperature in PrusaSlicer under Filament Settings.
It might be a good idea to start preheating to save time.
Setup:


voron.k-space.ee does not work, it's behind Authelia. You must be in VPN to use the local IP.
After slicing: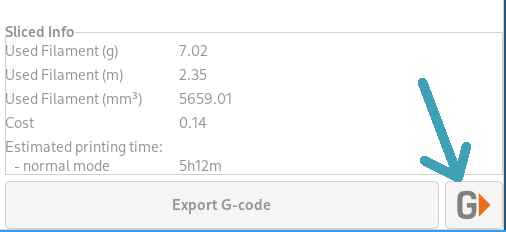 Clean magnetic printing pad (dark gold, thin removable plate) with non-sharp tools, clean the surface (wet towel works, in extreme case use window cleaning liquid).
Apply layer of glue slime (bottle around 3d printer) and/or glue stick on printing area. Smear it with wet paper towel evenly across the surface. One layer might work for 1-5 printing. YMMV.
Ensure that glue layer is dry.
Connect to https://voron.k-space.ee
Upload your .gcode file under Jobs tab. Start print.
Observe print progress closely (if the glue does not work properly the object may peel off from pad and make a big mess).
When ready, you may remove printed object immediately -- remove magnetic pad from printer and twist it in two different directions to extract object from pad.
Remove residues from printer and pad.
Heating the pad makes cleaning easier. Either WebUI: Thermals → Presets → Clean heater bed or from printer: Click wheel → Temperature → Bed
K-Space accepts donations for used filament.
PrusaSlicer shows amount of material used after slicing:

TL;DR: Do the first layer calibration.
(TODO: check for printer-specific values. Voron: Z-0,525 ?? )
Example calibration values: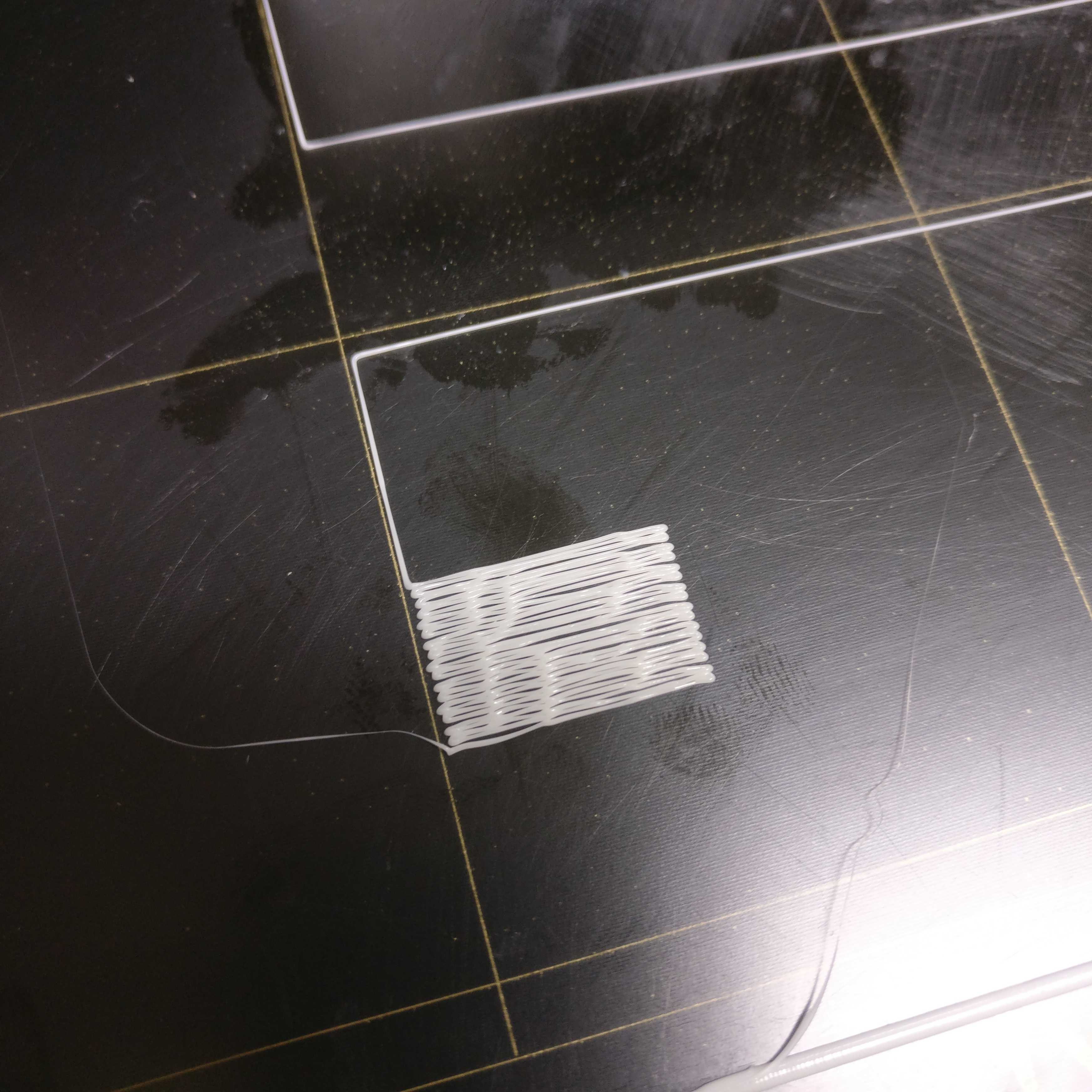 Clean the surface. Try fiddling with the Z-height (menu->calibration->z-height cal).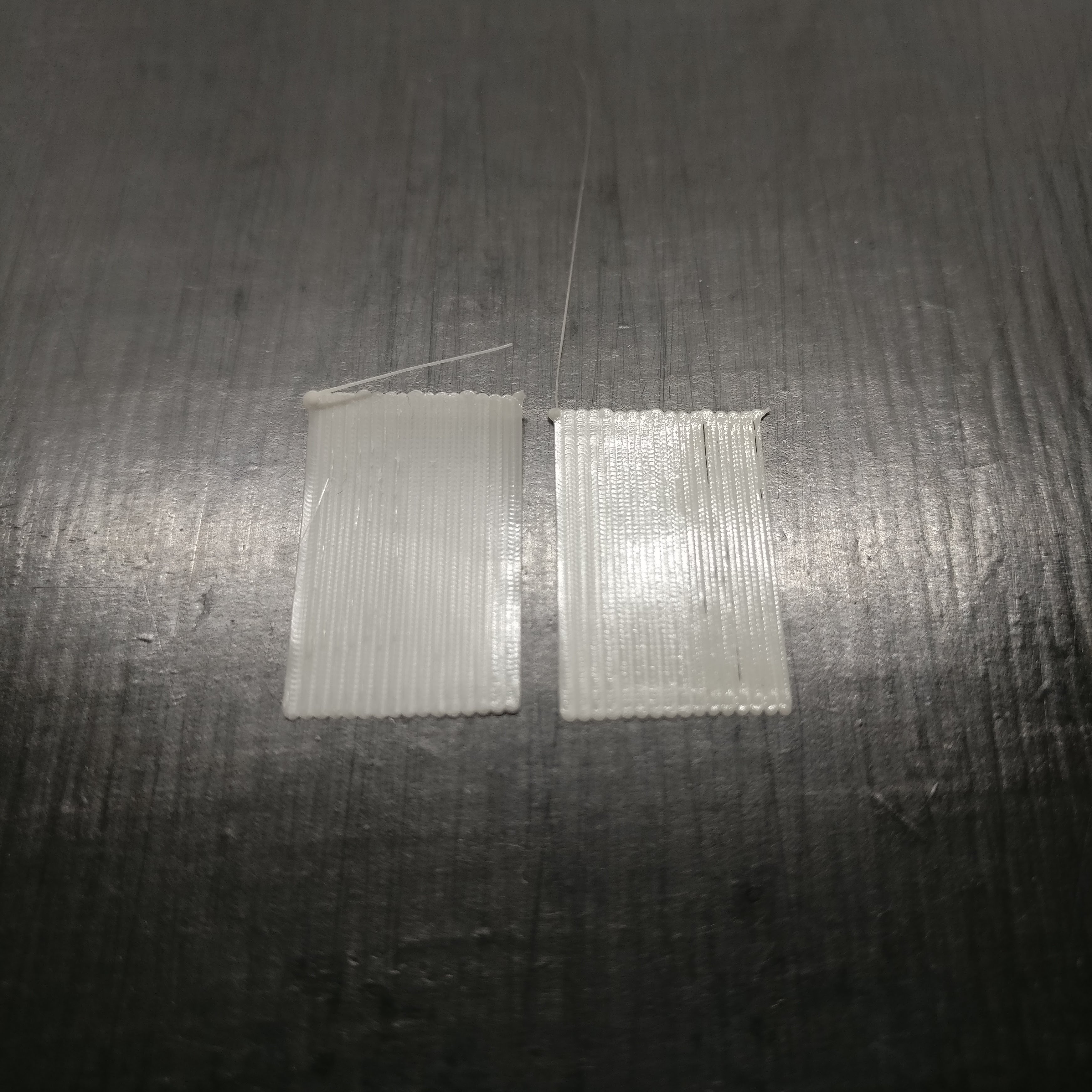 Left rectangle
600 (the two leftmost lines)
550
500
450
Right rectangle
TODO-TODO
https://pad.k-space.ee/p/r.153650aa0a4e375a3f64a53c8dbfa355
https://www.facebook.com/kspace.ee/videos/1033346817231051/ (3D printing intro)